So, you want to know a bit about me?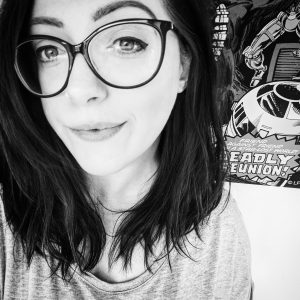 I'm Vicki, a 30-something human female of the planet earth. I have a penchant for wine, chickpeas and the dramatics. I'm a writer, creator, storyteller, marketing bod and canny egg, who is bloody good at what she does.
My biggest accomplishment in life, love and my career so far has to be the time I accidentally accosted Peter Beardsley with hugs and kisses because I thought he was a member of my family. I also did exactly the same thing, for a full 12 months, every time I saw a particular old lady who I'd convinced myself was my grandma. She wasn't. She was actually the grandma of some kid I went to nursery school with and looked absolutely nothing like my actual grandma.
I've been writing, telling stories and typing away on various types of keyboards for as long as I can remember, and you're right, I do sound like I'm channeling my inner Ray Liotta in Goodfellas. I always do.
I could incorporate this into my personal brand. But, who wants to hire the woman who may or may not murder you because you asked her mate to go home and get their shinebox, or pushed her girlfriend out of a moving car after getting rejected for being too handsy?
No one, probably.
And for good reason.
I studied English Literature and Film at uni, because my hobbies have always been books and movies (and writing about them), and I cannot begin to tell you how many people openly scoffed at this decision.
"What? Studying English with no intention of becoming a teacher? What are you going to do with your life?"

Loads of people
Fast forward to 7am one gloomy Thursday morning in twenty twenty one.
I now have over a decade of professional content writing, copywriting, content creation, PR, branding, comms and marketing experience, gained largely within the tech, SaaS and digital sectors.
I've worked with software start ups and scale ups alike, some of the fastest growing companies in Europe, government bodies and ecommerce companies too. I even spent a stint working with the company behind everyone's favourite guilty please, house stalking and talking about it on Twitter, for a while too.
I can say, hand on heart, that I love what I do. I live and breathe what I do and I'm pretty bloody good at what I do too.
In my spare time, I take selfies, cook and eat a lot of chickpeas and write about smashing the patriarchy, sex, equality, fashion, beauty and fragile/toxic masculinity, if that wasn't already clear.
I'm always looking for new opportunities to collaborate, freelance and generally trade words for money, so feel free to give me a shout if you're looking for an excellent writer with moxie and other words from the 1950s: