Originally coined by Kinsey Institute collaborator, Paul Gebhard in his essay Fetishism and Sadomasochism in 1969, BDSM has become a recognised practice in our collective sexual culture.
However, BDSM has been recorded many times throughout the annals of history, leading all the way back to the very first civilisation.
In today's deep dive, that's where we're headed. But first, if you aren't already in the know, let's do a quick intro.
What is BDSM?
BDSM is an acronym: bondage, dominance, submission/sadomasochism, and usually involves partners taking on specific roles in which one partner is dominant and the other is submissive.
BDSM has often been portrayed as either deviant or taboo, but research shows that BDSM is actually a common fantasy and practice.
In a YouGov survey, conducted in 2019, 46 percent of people under the age of 40 said that they had tried, or would like to try BDSM. This is compared to 18 percent of over 40s, proving that BDSM no longer sits on the fringes of our sexual appetites, but has found its way into the bedrooms of even the most vanilla of sex havers.
It's procreation, there's no room for BDSM
Preconceived notions of sex throughout history paint a chaste, almost perfunctory portrait of sex. Images of virtuous virgins and gallant gents are framed through a rose-tinted lens, portraying love and romance, marriage and babies in an almost puritanical way.
The enjoyment of sex; passion, lust and even orgasms are oppressed and demonised in order to uphold these largely religious values, forcing even our most basic desires to become shrouded in shame and secrecy.
But, looking at the likes of Shakespeare or Chaucer alone, should show us that we've always been top shaggers – virtue be damned – and history has given us extensive examples of kink and BDSM playing a central role in the bedroom and beyond.
Kink throughout history
Almost every historical civilisation has connections to our modern day understanding of BDSM. Despite the dark and disturbing imagery used by critics to brand BDSM as sexist, anti-woman and a threat to heteronormativity (finally), history proves that there are elements of this sexual subculture that has infiltrated every aspect of civilisation – and its practices weren't kept behind closed doors.
In Ancient Greece…
Sparta to be exact, there was a cult dedicated to the goddess Artemis. Young men and women took part in various sacred rituals, where the girls – assumed to be celibate – would dance in a hyper-sexualised way, but the boys… Well there was something different. They would be flagellated by priestesses as they ran towards altars laden with food. My assumption is that this was survival of the fittest and whoever made it to the altar could have their cake and eat it too…?
Ancient Italy did things slightly differently…
The casually named 'Tomb of the Floggings' was built around the fifth century (before the persecution of the pagans) and is believed to be dedicated to the god of wine and parties, my boy Dionysis. It's laden with sexually explicit imagery, including a wall painting of a woman being whipped by two men, while in the throes of an erotic three-way tryst.
In Pompeii, imagery inside the more vanilla-named 'Villa of Mysteries' shows a winged woman known as the 'Whipstress'. This angelic figure initiated women into her secret cult through techniques akin to both bondage and flagellation, which suggest that whipping was more than just for punishment – it was for sexy, cult-related enjoyment too.
In 15th century Japan…
There was a popular creative martial art known as hojojutsu, which focused on rope restraint. When capturing or punishing criminals, samurais would bind prisoners using elaborate rope configurations and special knots to prevent escape.
Interestingly, this bondage was about more than simply restraining enemies, and a lot of consideration went into the aesthetics of hojojutsu.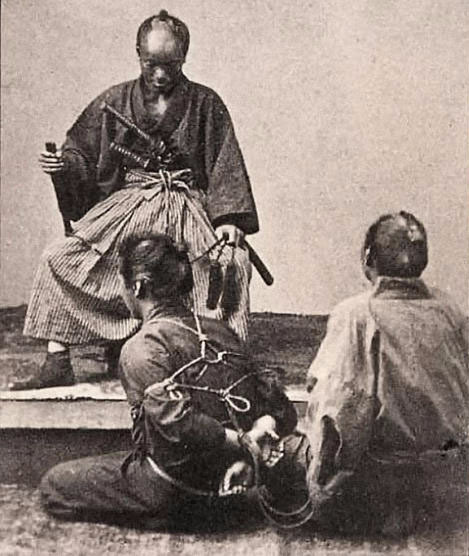 A major tenet of the practice stated that, in addition to restricting a prisoner's movement, the ties must also be pleasing to the eye, as prisoners were also often publicly humiliated by being paraded around while bound.
What's more, hojojutsu became the renowned precursor to shibariorkinbaku – Japanese erotic rope bondage.
Mesopotamia is considered humanity's first advanced civilisation
Located in and around modern-day Iraq, Mesopotamia dates back 12,000 years and was where the concept of cities, literal writing and the humble wheel were invented.
It seems only fair, thus, that the first words put to writing included sexual acts of dominance and submission and centered on a goddess named Inanna.
Inanna was the region's main deity, and let's just say, she was a bad-ass. Associated with love, beauty, sex, war, justice and political power, Innana was known as 'the queen of heaven'.
The cult of Inanna has been associated with a variety of sexual rites of passage, and she was so beloved, that in certain regions, she ranked above the national God. What's more, Inanna is alluded to in the Hebrew bible and is thought to have greatly influenced the Poenician goddess Astoreth, who later influenced the development of Greek goddess, Aphrodite.
Inanna appears in more myths than any other deity of the region, and many of those involve her taking over domains of other deities. She is believed to have stolen Mes, which represented all positive and negative aspects of civilisation, from Enki, the god of wisdom. She's also believed to have taken over the Eanna temple from An, the god of the sky.
Inanna also:
Destroyed a mountain for challenging her authority
Unleashed fury upon a gardner after he raped her in her sleep
Tracked down and murdered a bandit woman in an act of divine retribution for having murdered Dumuzid, her husband.
A slight segue, but it was necessary to build this bad bitch up before I get to how people worshipped her.
How people worshipped Inanna
Historians discovered cuneiform tablets depicting the ritual fetishisation and worship of Inanna. Her subjects were whipped as they danced for her, enticing them into sexual frenzies, and a hymn about my new favourite deity mentions cross dressing, altered states of consciousness and rituals imbued with both pain and ecstasy.
But, perhaps the only thing you need to know about Inanna is that while humans worshipped her, she worshipped her own vulva, and forced men in particular, to bow to her in submission.
Yas, get it girl!
Back to the future: BDSM in modern history
Anyone who studied English Lit – or even anyone who has heard of a book – will know that sex plays a central role in almost every literary classic. This includes BDSM.
Geoffrey Chaucer, who began writing The Canterbury Tales in 1387, touched upon many a taboo topic. My favourite, and his alleged most raunchy, centers on a cuckolded miller, his wife, her lover, salacious use of the term 'queynte' and one particularly red hot poker in The Miller's Tale.
It was around this time that there was a boom in erotic literature that would last until the 19th Century. From Thomas Sadwell's The Virtuoso to John Cleland's Memoirs of a Woman of Pleasure – otherwise known as Fanny Hill – there are countless examples of literary works telling tales of chambermaids whipping their masters and young servants whipping their mistresses.
Tales of power, control and role reversal were particularly titillating to a medieval audience caught in the clutches of extreme wealth disparity and classism.
120 Days of Sodom: a defining moment in kink culture
Marquis De Sade defined erotica in the late 1700s with 120 Days of Sodom. This is classed as Sade's masterpiece and resulted in the creation of the term 'sadist'. It was also the first systematic exploration of the psychopathology of sex.
This catalogue of sexual perversions was written during Sade's imprisonment for sexual deviancy and blasphemy, and later lost after the storming of the Bastille during the French revolution. Once it was rediscovered, it wasn't actually published until 1936, making it possibly the most infamous and revolutionary work of the time.
120 Days of Sodom is still classed as one of the most controversial books ever written. Inspired by both eroticism and anti-establishmentarianism, Sade's work was unique in its ability to both shock and provoke.
With scenes depicting beating, forced orgasm, humiliation, group sex, role play and knife play (among others), this work has been the source of much outrage and scrutiny. Some second and third wave feminists deigned his work sexist, while others simply found it genuinely upsetting.
I did not like it… at all… but I also can't deny the profound impact that Sade has had on BDSM.
War, huh? What is it good for?
The aftermath of World War I left Germany in ruins. Yet, the ashes of the war paved the way for the Jazz Age, Weimar Berlin and the birth of cabaret.
Historically referred to as the roaring 20s, the impact of a global war and subsequent pandemic led to a decade of decadence, partying and some of the most interesting music, film and literature created.
(Let's not mention the global recession that plummeted society back into the throes of fascism and war yet, though).
During this time, a cultural shift took place across Germany. Men in makeup, alongside short-haired women in tuxedos frequented nightclubs, blurring the line between gender across Weimar Berlin, allowing the city's queer club scene to thrive, and bring sexual freedom to the mainstream.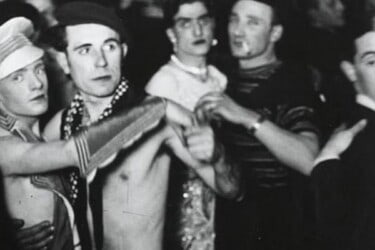 Christopher Isherwood's Goodbye to Berlin captures the beauty of the Jazz Age, juxtaposed against an almost nihilistic portrayal of Berlin society. With images of Tiller Girls touring the Berlin club scene; exposed pins and provocative dances provided an extensive tableaux of women posing naked and actors hopping onstage to tell risque jokes and sing lewd songs.
It was in these spaces that members of the LGBTQ community could emerge from the fringes to express and celebrate their sexuality openly, unashamed of their kinks, desires or chosen sex partners.
This continued until Hitler began gaining popularity with right-wing audiences. Ultimately, fascist ideology destroyed these clubs and ruined Weimar Berlin's sexually liberated culture. Sexuality and the LGBTQ community were once again forced to retreat back into the shadows by threat of death.
Kids in America: fetish and BDSM in post-war USA
In terms of sexuality, kink and BDSM, American culture wasn't quite as open-minded as the Germans and as such, this subculture remained underground – but this underground culture thrived.
Charles Guyette (1902-1976)
Described as a pioneer of the fetish style, Guyette was the first person in the USA to produce and distribute fetish art and photographs – some of which featured sadomasochistic content.
As a fetish fashion pioneer, Guyette provided costumes, shoes, boots and the occasional photograph for publisher Robert Harrison, who was known for pin-up magazines such as, Wink, Titter, Beauty Parade, Whisper and Eyeful.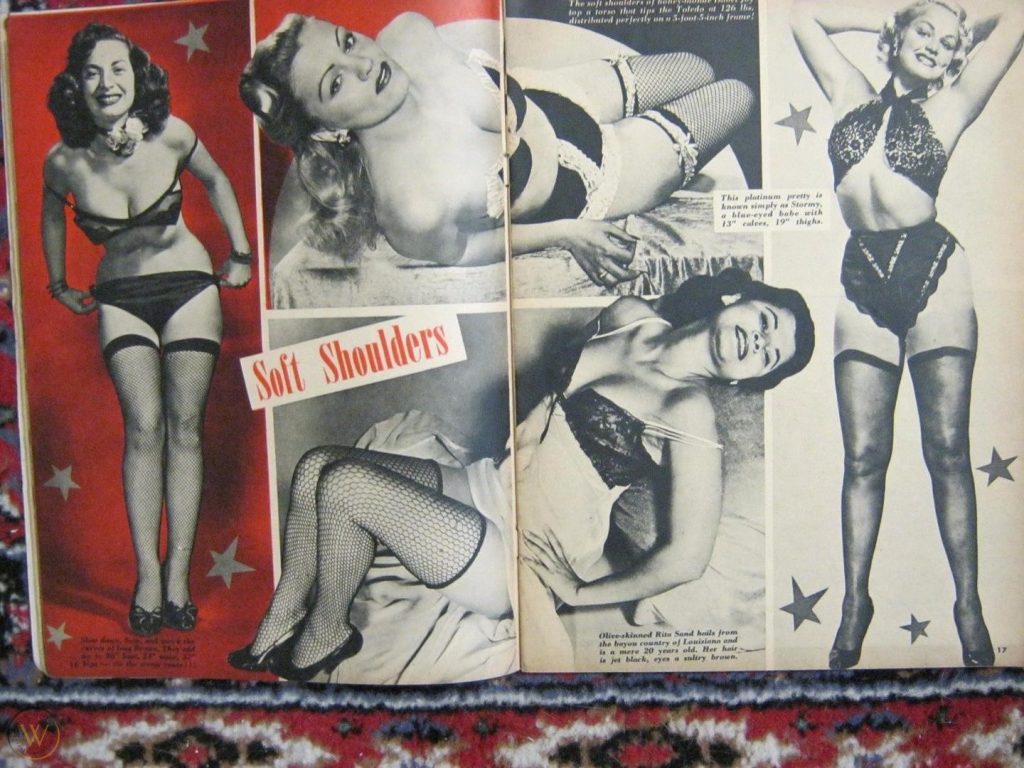 Although largely uncredited in his lifetime, Guyette was an incredibly important figure in the early fetish community; the first martyr of fetish art in history and a key influencer for all fetish art innovators who came after him, including Irving Klaw and John Willie.
Irving Klaw (1910-1966)
Self-proclaimed pin-up king and influential merchant of sexploitation, fetish and Hollywood glamour pin-up photographs and films.
Klaw's contribution to the world was to commission fetish art, and he is responsible for the likes of Bettie Page rising to fame. Instead of photographing himself, he would sponsor illustrative artists, and used his influence to promote the legacy of pioneers such as Charles Guyette and John Willie.
John Willie (1902-1962)
Willie was an artist, fetish photographer and editor. He was also the publisher of the first 20 issues of fetish magazine Bizarre, which often featured characters such as 'Sweet Gwendoline' and 'Sir Dystic D'Arcy'.
This was strictly an underground sex magazine, but Bizarre did have a far-reaching impact on the later fetish-themed publication scene, and even experienced a resurgence in popularity during the 1970s.
Willie is often attributed to pioneering modern BDSM and fetish styles, with contemporary looks still attributed to the scene today. Some of the images produced by Willie overtly crossed into BDSM territory. Models bound with ropes or leather behind their back or over their heads; models struggling against restraints or being beaten etc.
Bizarre was lucky with its content and managed to avoid censorship. Despite the overarching fetish theme, the publication didn't contain:
Nudity, homosexuality, overt violence or obvious depictions of things that might be read as perverse or immoral and that might rankle those parties who were capable of banning, censoring or blocking circulation.
Bettie Page (1923-2008)
The inimitable Bettie Page was one of the most famous Bizarre models on the roster. Queen of the pin ups and BDSM alike, Page is largely attributed to revolutionising sexuality for women:
"They claimed I opened up the sexual revolution, but I was just doing my job, and I loved every moment of it!"
In some part, the sexual revolution could be attributed to the lasting impact Bettie Page had – certainly when it comes to the relaxing of censorship on women. An instigator behind women embracing their sexuality and femininity, Bettie Page empowered women to make their own decisions on sexual preferences, leading to a more healthy discourse around submissive and dominant behaviours for women.
It was because of Bettie Page and her fellow pioneers that BDSM began to break free from the underground and make tentative steps into becoming an artistic movement.
BDSM, fetish art and the gay community
Around the time society was becoming accustomed to Bettie Page's fetish look, marginalised members were starting to emerge from the underground.
The gay leather movement came out in response to California's motorcycle culture and spawned the leather subculture in homosexual communities. With its overtly masculine themes, the leather movement directly countered society's pre-conceived notions about homosexuality and masculinity, with the movement becoming a powerful statement in the fight to normalise homosexuality.
Touko Valio Laaksonen (1920-1991)
Otherwise known as Tom of Finland and considered the "most influential creator of gay pornographic images" ever. Best known for creating highly stylised and masculinised homoerotic art, Tom of Finland's career spanned four decades and saw the production of around 3,500 illustrations, mostly featuring men with exaggerated primary and secondary sex traits, with tight or partially removed clothing.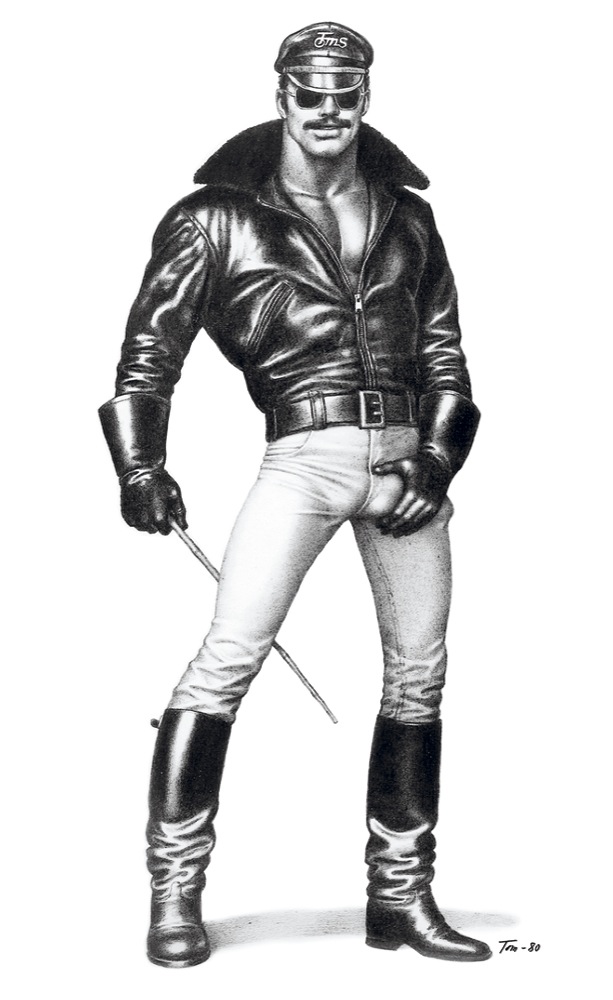 Like John Willie, Tom of Finland created an identity for BDSM and gay culture. Where mainstream media at the time would frame gay men in an effeminate light, Tom of Finland created strong, powerful and self-assured works of art.
Robert Mapplethorpe (1946-1949)
Like Tom of Finland, Mapplethorpe is attributed as one of the pioneers of the homosexual art scene.
Coming of age in New York City in the 1970s, Mapplethorpe played a pivotal role in bringing BDSM into the mainstream, using his photography to shift trends in homosexuality and pushing back against the stereotype of the effeminate homosexual.
At the time, and even now, Mapplethorpe was synonymous with obscenity, but that was not the specific purpose of Mapplethorpe's work. Instead, Mapplethorpe confronts his audience with bold images, many taken in the underground BDSM sex scene. His work, however, deviated from the heteronormative concept of BDSM (think Bettie Page et al) and enabled artists across the spectrum to start exploring bold BDSM themed content.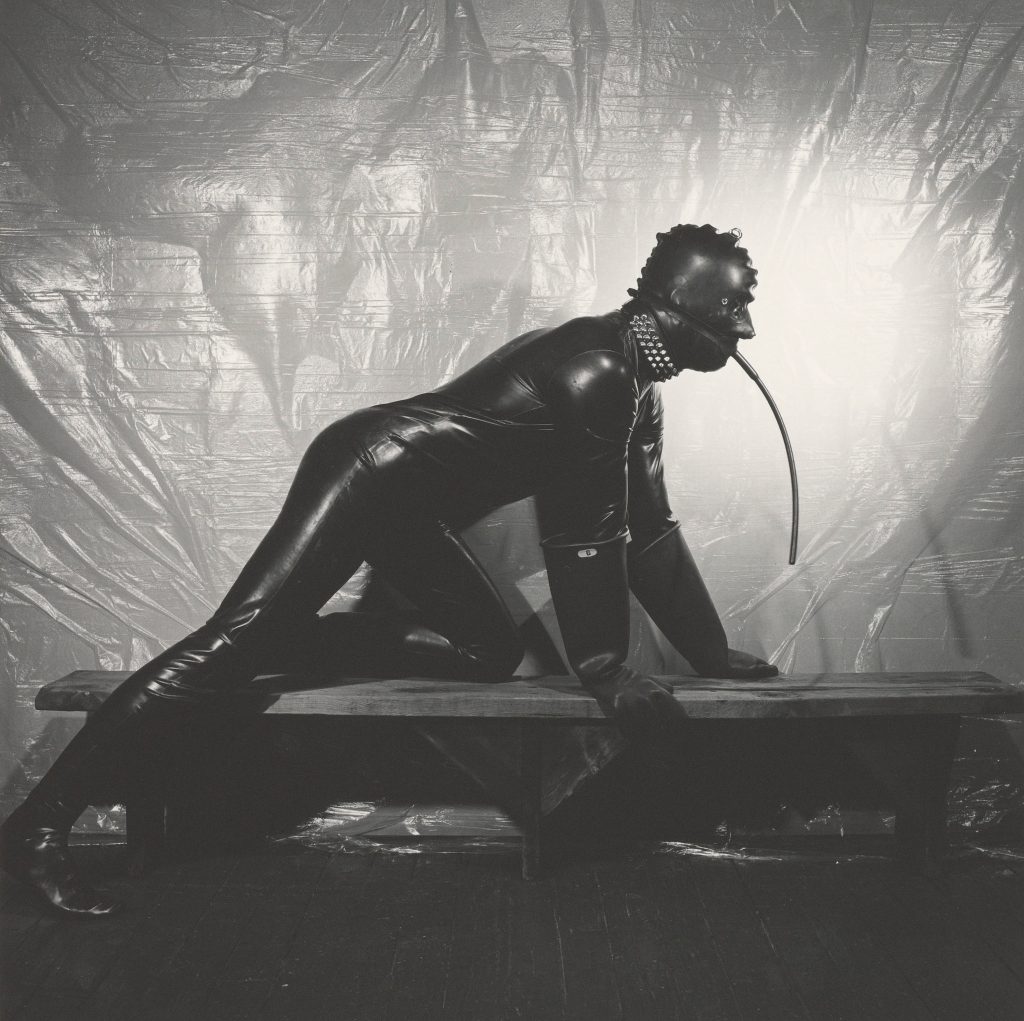 A new era: the ushering in of mainstream BDSM
Although not entirely mainstream, BDSM is no longer a cultural or sexual taboo. Even before the advent of the internet, artists were pushing the boundaries of society's comfort, exposing us all to scenes once kept exclusively underground.
In the 1990s, Nine Inch Nails and Marilyn Manson used BDSM as the boilerplate for their looks and modes of artistic expression (the latter being an example of someone's life imitating art in the entirely wrong fucking way). Even fashion designers have taken inspiration from BDSM pioneers to create their work: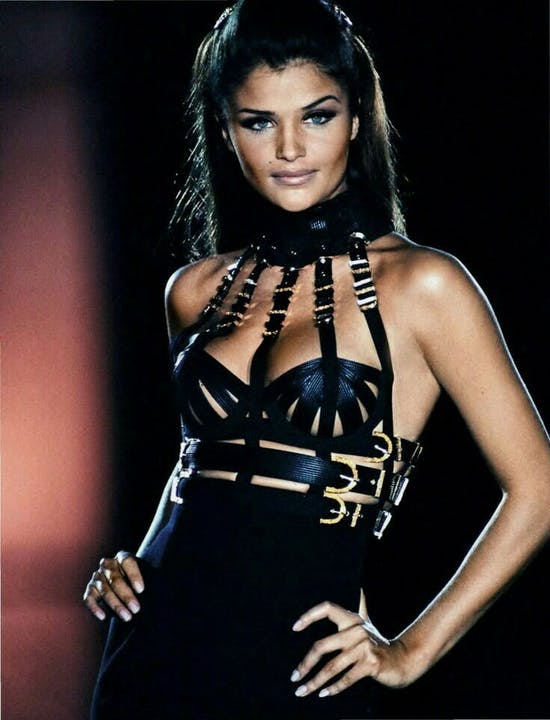 The history of BDSM not only proves the fluidity of gender and sexuality throughout the ages, it also highlights that society's misconceptions about BDSM are misplaced. It's not a nefarious subculture hell-bent on destroying society and it's not a culture best kept underground, away from prying eyes.
BDSM is a subculture with an incredibly rich, important history and is further proof that there is no incorrect way to express sex, gender or sexuality – it's all good, as long as it's consensual.